The Trusted Toolbox provides beautiful home remodeling services for homeowners in surrounding areas of Duluth, GA. If you live in an older home, then these popular rooms have likely seen better days. They may have outlets that don't work, lights that don't come on when you want them to, old wall and floor coverings, grimy old paint, and so on. If this sounds like your home, then you could certainly benefit from having some renovation work done. When you remodel your home, you add a lot of curb appeal and charm to your property. This is something that will set your house apart from others if you are thinking about putting your property on the market in the next few years. Prospective home buyers enjoy seeing locations where the previous homeowners took the time to spruce the place up so that it's more modern and functional.
Our remodeling contractors provide services to many residents in the area, for a full list of the areas we serve, click here.
Of course, you may love DIY projects, and you could be thinking that this is work you could do on your own. However, the remodeling shows on TV make it look much easier than it really is! That's why we have a crew of 20 trained techs who are skilled in various areas of home remodeling. Some are great electricians or plumbers, and some are fantastic at doing interior painting. Regardless of what kind of remodeling work you want to do, we guarantee that we have the perfect team to finish the job for you.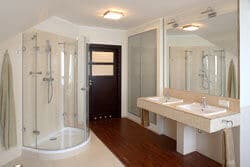 When it comes to bathroom remodeling, we can completely overhaul the room so that it's much more usable and fresh. This is likely a popular room in your home, so it needs to be as user-friendly as possible. We can do the following:
New tub, shower, toilet, and sink installation
Install new wall and floor tiles
Install new lighting or fixtures
Add a fresh coat of paint
Install cabinets, counter tops, mirrors, or vanities
We will have your bathroom looking beautiful once again in no time.
Kitchen remodeling is one of our most popular services. This room is where you prepare meals, eat breakfast-lunch-dinner, help the kids with their homework at the table, talk on the phone to your friends, and so on. It's important that this room stays as functional as possible. We can do the following:
Install new lighting and fixtures
Add a fresh coat of paint
Install new cabinets, counter tops, and islands
Lay new flooring
Install appliances – fridges, stoves, ovens, microwaves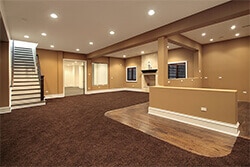 Basement remodeling is a perfect way to add extra living space and generate more property value out of your home before you sell it. Our team of experts can help you with any basement remodeling or basement finishing need, and can help you create the space of your dreams in your basement. We can do the following:
Install new flooring
Finish basement walls
Design functional living spaces
Modernize your basement
Create more space for your family to enjoy
Contact Our Experts About Home Remodeling Services
The Trusted Toolbox offers expert remodeling and repair services to homeowners in Atlanta and surrounding areas. No job is too big or small and have peace of mind that your project will be built the right way. If you would like to discuss a home remodel, please contact our experts at The Trusted Toolbox today by filling out our online contact form or by calling us at 770-623-3097.