Professional Deck Repair Services - Atlanta, GA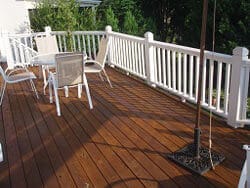 The Trusted Toolbox provides reliable deck repair, deck building, and deck installation services for homeowners in Duluth, GA and surrounding areas in North Atlanta. We have all the materials and parts needed to take care of whatever kind of deck problem you may be experiencing. We also have all the designs and building plans available if your looking for a brand new deck installation.
We know that you are a busy homeowner, and you want to be sure that you are working with handymen who really know their stuff and who will work fast to get the job finished. That is precisely what you'll be getting with The Trusted Toolbox. We will show up on time for your appointment, and we will get the repair work finished fast so that you and your family can enjoy this outdoor structure safely once again.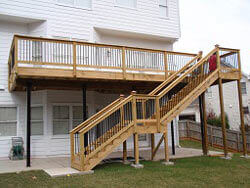 In addition to deck repair & installation, we can also provide you with deck maintenance and deck rot repair services. This is work that is best left to the professionals, because we know how to properly re-seal, stain, and finish wooden decking materials. It's safe to say that most decks are made from wood, and this is a material which can be difficult to take care of if you don't know what you are doing. We can help.
We can maintain your deck so that it continues to look great throughout every season of the year. We can also provide upkeep services for decks which are made from vinyl or composite materials. It doesn't matter what your deck is made out of – we can keep it looking great.
Contact Our Experts About Deck Repair Services
The Trusted Toolbox offers expert remodeling and repair services to homeowners in Atlanta, Athens, Duluth, Norcross, and the surrounding areas. No deck repair project is too big or small. You will have peace of mind that your project will be built the right way. If you would like to discuss a deck repair, please contact our experts at The Trusted Toolbox today by filling out our online contact form or by calling us at 770-623-3097.