Professional Handyman Services in Alpharetta
If you have a lot of projects on your to-do list, but not enough time to do them, Trusted Toolbox can provide a solution near Alpharetta! Our team will handle the projects so you can turn your to-do list into a done list. We have a staff of true professionals with many years of combined experience working in the industry.
Our professional handyman service and repair technicians provide high-quality results to homeowners in Alpharetta. From minor repairs to maintenance services, our team has the experience to get the job done in a timely and efficient manner. We provide our handyman services to residents in Alpharetta and surrounding cities.
Quality Bathroom Remodeling Services
Did you know the average person takes nearly 30,000 showers over a lifetime? Almost a year and a half of your life is spent in your bathroom. Bathroom remodeling and renovations are the best way to improve property value and give your home in Alpharetta a fresh look. Whether you want to install a new sink, glass shower door, or new tile in your shower, we can help. We can remodel bathrooms of all sizes, from half-baths to master bathrooms; no project is too big.
Our team of experts at The Trusted Toolbox specializes in bathroom remodeling services for homeowners in Alpharetta and the surrounding areas in Central Georgia. Our bathroom remodeling and bathroom repair services are a step above the competition. We offer design ideas, remodeling expertise, and trustworthy staff to help you finish your bathroom remodeling project quickly and properly. If you need handyman services in Alpharetta, call Trusted Toolbox.
Professional Kitchen Remodeling in Alpharetta
The kitchen of your Alpharetta home is a gathering place, a central hub, a memory-making "heart of the home."  We believe your kitchen is an extension of you. Our team of experts understands the importance of creating a dream kitchen design that feels like home.
Your kitchen is an essential investment, which is why kitchen remodeling is one of the best things you can do for your home in Alpharetta.
Our team of professionals offer appliance installation, cabinet installation, countertop replacements, fixture replacements, painting, and tile installation for homeowners in Alpharetta. We will help you create a kitchen design that suits your home's style and your wants and needs. We provide our kitchen remodeling services to many residents in Alpharetta and the surrounding cities in Georgia.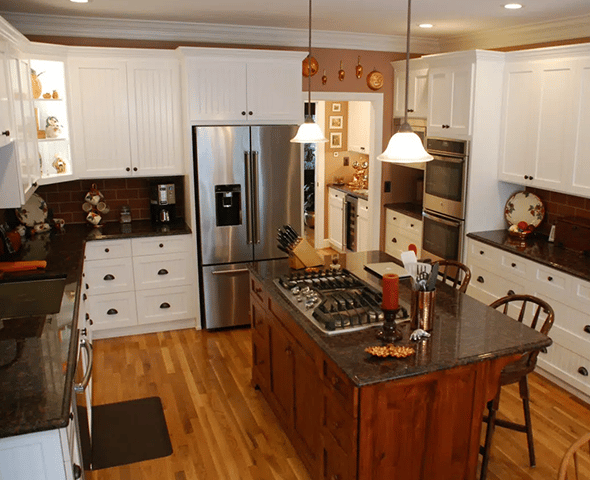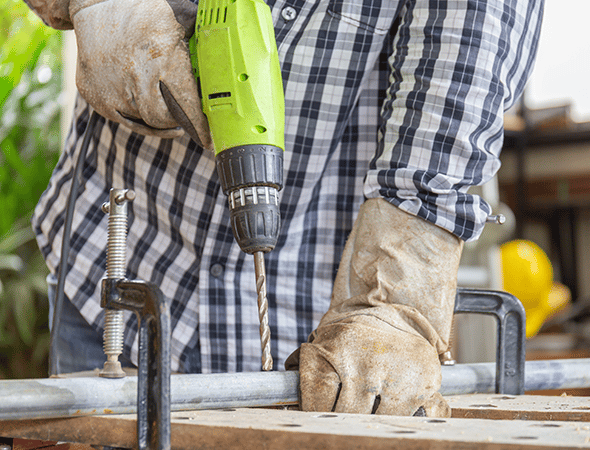 Deck Repair Experts in Alpharetta
Has your deck in Alpharetta seen better days? Over time, the outdoor elements can take their toll on outdoor living spaces. Railings, stairs, and decking get worn. Not only that but cracks or breaks in footing boards can be dangerous. Although your deck may look like it's nearing its end, the structure may still be sound and in good condition. Call Trusted Toolbox if your deck in Alpharetta could use our deck repair services. We have all the materials and parts needed to take care of whatever kind of deck problem you may be experiencing. We also have all the designs and building plans available if you want a brand-new deck installation.
We know you want to work with handymen in Alpharetta who really know their stuff. That is precisely what you get with The Trusted Toolbox. Our experienced professionals will work fast to get the job finished. Our knowledgeable team will replace, repair, and rebuild any loose, rotted, old boards, handrails, stairs, and support posts. Our experts at The Trusted Toolbox will show up on time for your appointment and get the repair work finished quickly so that you and your family can enjoy this outdoor structure safely once again.
Window Replacement Experts in Alpharetta
Need window repair in Alpharetta? We are the local experts you can rely on for all your window replacement needs. The Trusted Toolbox provides window replacement and window repair to solve all window related-problems for homeowners in Alpharetta and surrounding areas North of Atlanta. We'll always strive to give you options that save you the most time, money, and hassle. If the time has come for window repair or replacement in your home, let our handyman services help you with this project. We want to save you money and time by offering our fastest installation and repair services in the industry.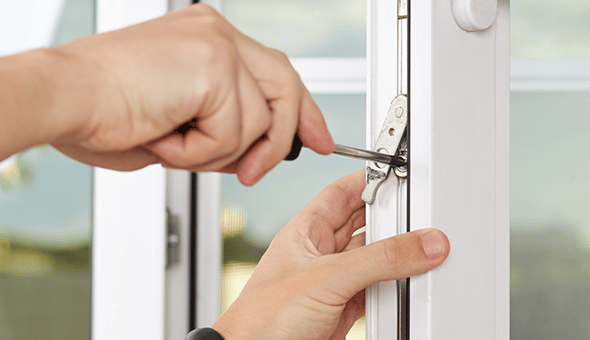 Contact Us for Professional Handyman Services
Our professionals are here to help whenever you need handyman services. If you are searching for a local handyman expert, look no further. We service all of Alpharetta and the surrounding cities and can help you keep your home in good shape year-round. Contact our team at Trusted Toolbox by calling 770-623-3097 or filling out our contact form to schedule an appointment.