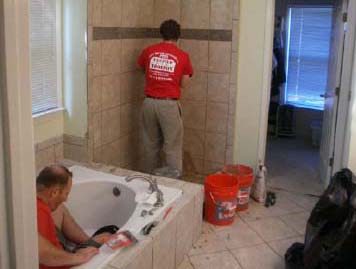 Professional Handyman Services in Atlanta, Athens, and The Surrounding Areas
Your Projects Done Right The First Time
The Trusted Toolbox offers professional handyman services to busy homeowners in the North Metro Atlanta area. As a homeowner, you likely are extremely busy and don't have time to spend worrying about fixing broken pipes or fixing holes in the drywall. So, instead of taking care of the problems, they continue piling up for months at a time. Rather than putting off these repairs any longer, you should contact our handymen to do the work for you. We have a staff of true professionals who have many years of combined experience working in the industry. We know that they will be able to assist you, and they will show up promptly for your appointment time so that you don't have to wait for hours on end for us to show up.
We provide our handyman services to residents in the Northern Atlanta Metro Area, Marietta, Athens and surrounding cities.
Quality Handyman Services for Your Projects
You care a lot about your home's appearance, both on the inside and the outside. For this reason, you need to be sure that you are working with true professionals in the industry. There are many contractors and other handyman services in Atlanta that you could choose from. However, you need to realize that they are going to offer you low quality work at expensive prices that are not necessary. We feel as if we provide a great value for your dollar, and we will do everything we can to make sure that the job is done right and done right the first time so you don't have to deal with us coming in and out of your home for weeks at a time.
Wanting to hire a handyman, but you are unsure about what projects we can help with? Call our experts or fill out our online contact form to ask us questions about our handyman services.
We have provided handyman services for large and small projects for over 10,000 homeowners in the North Atlanta Metro Area, Athens, and the surrounding areas.
We have 20 trained professional handymen on our staff who are looking forward to helping you with your project.
Additional Handyman Projects:
Mailbox Repair
Sticky Door Repair
Light Replacement
Ceiling Fan Installation
Floating Shelf Installation
Hanging Pictures
Curtain Installation
Crown Molding Repair and Installation
Tile Installation
Door Handle Replacement
Re-grouting tub surrounds
Shower Head Replacement
Small Carpentry Items
Why Hire Our Professional Handymen?
Our team of professional handymen at The Trusted Toolbox are licensed and trained in a variety of household repairs. When it comes to home improvement, home repair, and remodeling works our team is unmatched in the Atlanta area. Our professional handyman services are not just for large projects. We help with everything from fixing mailboxes to remodeling bathrooms.
If you are putting off projects or are unsure about the outcome contact our team at The Trusted Toolbox. We have been helping homeowners in the North Atlanta Metro Area with small and large projects for years.
Contact Our Experts to Hire a Handyman in Atlanta
The Trusted Toolbox offers expert handyman services, remodeling, and repair services to homeowners in Atlanta, Marietta, Athens and surrounding areas. No job is too big or small. Our team guarantees you will have peace of mind that your project will be built the right way. If you would like to hire a handyman, please contact our experts at The Trusted Toolbox today by filling out our online contact form or by calling us at 770-623-3097.