Commercial Property Maintenance - Duluth, Atlanta, Alpharetta, and the Surrounding Areas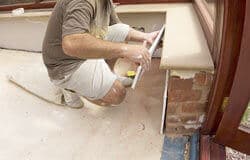 The Trusted Toolbox provides professional commercial property maintenance for business owners in surrounding areas in Duluth, GA. As a business owner, you are busy, and don't have time to worry about taking care of window replacement, wood rot repair, and remodeling work in your building because you're already concerned with the actual operation of your business. However, as the owner you are responsible for the upkeep of both the building and the land that it's on. We have a trained team of professional handymen who will be able to help you with whatever kind of work you need to be done and let us take care of all the dirty work while you stay focused on running your business.
We offer professional services on commercial levels that can take care of everything from appliance installation to touch-up painting, as well as new door and window installation. We feel as if the greatest benefit of choosing a handyman to do this work for you is the fact that you only have to come to one business for help. You don't have to scurry and search around for a door installer, a window installer, a painter, a landscaper, a wood rot repair contractor, and so on. We are your one stop shop for maintenance, remodeling, and renovation work so save yourself the time and energy of hiring multiple companies by letting us take care of all the work for you.
Commercial Property Upkeep
We guarantee that you and your employees will be satisfied with our services and with our professionalism. We promise to show up on time for your scheduled appointment(s), and we will be mindful of your property so that we don't track dirt and debris through your business, or through the lawn around your building. You can depend on us for the very best handyman services in the region. We have many past clients who were happy with our work, and you can feel free to read through some of their reviews on our site. See for yourself why these past customers were so pleased with our services!
Contact Our Experts About Commercial Property Maintenance Services
The Trusted Toolbox offers expert remodeling and repair services to homeowners in Atlanta, Duluth, Norcross, and the surrounding areas. No job is too big or small and have peace of mind that your project will be built the right way. If you would like to discuss property maintenance, please contact our experts at The Trusted Toolbox today by filling out our online contact form or by calling us at 770-623-3097.