Drywall Repair and Finishing Services - Atlanta, GA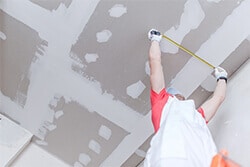 Our experts at The Trusted Toolbox know that one of the more important things you can do for your home is to provide regular sheetrock repair and maintenance. If you have drywall tasks on your list, you can contact our experts for handyman services to finish them. Our professional drywall contractors on our team have repaired almost any type of drywall damage imaginable. Our experts have years of experience with drywall repair, and you can be confident that they will arrive on time and that you will be completely satisfied with their workmanship.
Common Causes Of Damaged Drywall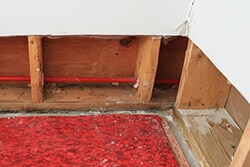 In cases where your drywall has been damaged from any of the following methods, or even if it was another issue, our experts can help. We cannot only perform the necessary repairs, but we can also inspect other areas of your home to determine if there is more that needs to be repaired.
Cracks from settling
Damage from moisture
Regular wear and tear
Damage from kids
Damage from mice
Holes from drywall anchors
One of the most common places in your home to have drywall damage is your bathroom. This occurs most frequently due to poor ventilation. If this is the case, our team of expert bathroom remodelers can repair or replace any damaged drywall, and they can provide you with some needed updates to your bathroom.
Trust Our Experts To Repair Your Drywall
Whether you need help at the end of a drywall repair project or want us to complete the entire thing, we are the company with the experience you need. From repairing cracks and holes to replacing entire drywall sheets, we can help. Our experts know your time is valuable, and they will get straight to work when they arrive. You don't need to be concerned about multiple visits or an incomplete project at the end of the day.
Contact Our Experts About Drywall Repair Services
The Trusted Toolbox offers expert remodeling and repair services to homeowners in Atlanta, Athens, Alpharetta, Duluth, and the surrounding areas. No job is too big or small, and has peace of mind that your project will be built the right way. If you want to discuss a drywall repair, please get in touch with our experts at The Trusted Toolbox today by filling out our online contact form or calling us at 770-623-3097.