Expert Handyman Services in Tucker
Do you have a "to-do" list of home improvement projects but don't have the proper tools, skills, or time to get it done? Call the Trusted Toolbox for our handyman services. The Trusted Toolbox has been providing handyman services to homeowners in Tucker for years. Some contractors might not accept a job if it's too small, but no job is too small for the Trusted Toolbox's handyman services. We help with everything from fixing mailboxes to remodeling bathrooms. The Trusted Toolbox offers professional handyman services to busy homeowners in the North Metro Atlanta area. We have a staff of true professionals with many years of combined experience working in the industry. Aside from the smaller services that the Trusted Toolbox's handyman services cover, we also offer remodeling services.
Home maintenance takes time. Don't spend your nights and weekends working after working all day. Call the Trusted Toolbox to do the work for you and enjoy your free time. . Our team of professional handymen at The Trusted Toolbox are licensed and trained in various household repairs. Our team is unmatched in the Atlanta area when it comes to home improvement, home repair, and remodeling works. If you are putting off projects or are unsure about the outcome, contact our team at The Trusted Toolbox. We have provided handyman services for large and small projects for over 10,000 homeowners in the North Atlanta Metro Area, Athens, and the surrounding areas. We have 20 trained professional handymen on our staff who are looking forward to helping you with your project.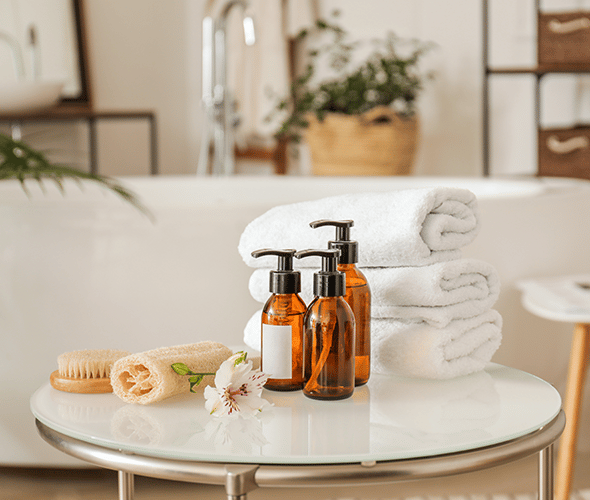 Professional Bathroom Remodeling in Tucker
Bathroom remodeling and renovations are the best way to improve property value and give your home a fresh look. Whether you want to install a new sink, a glass shower door, or install new tile in your shower, we can help. Our team at The Trusted Toolbox specializes in bathroom remodeling services for homeowners in Tucker and the surrounding areas in Central Georgia. The Trusted Toolbox brings unmatched service to all aspects of remodeling and handyman services in Tucker. Our professional remodeling contractors in Tucker are here to turn your dream bathroom into a reality. We believe in 100% customer satisfaction and will do everything possible to ensure that your finished Tucker bathroom remodel is exactly how you envisioned it.
Our bathroom remodeling and bathroom repair services are a step above the competition. We offer design ideas, remodeling expertise, and trustworthy staff to help you finish your bathroom remodeling project quickly. Our team can help you with any number of projects regarding bathroom remodeling. These include major projects, like complete renovations, or minor tasks, like replacing bathroom fixtures. When you hire our team to work with you on bathroom renovations, we will complete the job right the first time. If you're looking for high-quality, professional bathroom remodeling in Tucker, call the Trusted Toolbox.
Quality Kitchen Remodeling in Tucker
Are you interested in remodeling your old, outdated kitchen? Always been dreaming of a new granite countertop or new kitchen cabinets? In today's economy, you can get the best bang for your buck in Tucker with a beautiful new kitchen remodel. The Trusted Toolbox offers kitchen remodeling services for homeowners in Tucker and the surrounding areas looking for kitchen renovation or repairs. Kitchen remodeling is one of the best things you can do for your home. Tearing out old, broken cabinets, replacing sinks, replacing old countertops, or even upgrading to new stainless steel appliances will really bring your home into the 21st century! Even something as simple as replacing your old countertops with granite and a beautiful backsplash will do absolute wonders for your kitchen.
We provide our kitchen remodeling services to many residents in Tucker and the surrounding cities in Georgia. A kitchen remodeling project is unique from all other types of home improvement work. It encompasses so many different elements that it can be overwhelming to try to do on your own. This is why you will need the help of our professional handyman services. We have helped over 7,000 homeowners with all types of remodeling and repair work, and we guarantee that you will be pleased with the results of your kitchen project with our team.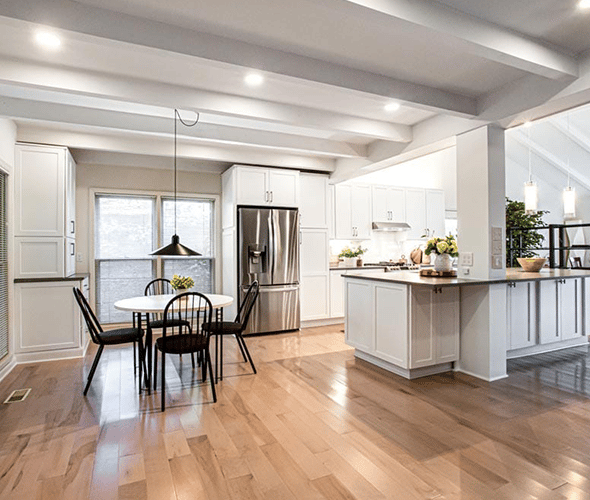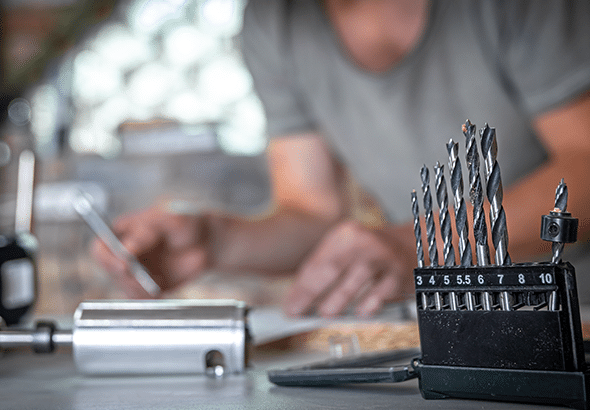 Reliable Deck Repair Services in Tucker
Has your deck seen better days? Over time, the outdoor elements can take their toll on outdoor living spaces. Railings, stairs, and decking get worn. Not only that but cracks or breaks in footing boards can be dangerous. Although your deck may look like it's nearing its end, the structure may still be sound and in good condition. Call the Trusted Toolbox to renovate your deck in Tucker. Our team will ensure any damaged areas are properly returned to their safe and usable condition. Our knowledgeable handyman will replace, repair, and rebuild any loose, rotted, or old boards, handrails, stairs, and support posts.
The Trusted Toolbox provides reliable deck repair, deck building, and deck installation services for homeowners in Tucker and surrounding areas in North Atlanta. We have all the materials and parts needed to take care of whatever kind of deck problem you may be experiencing. We also have designs and building plans available if you're looking for a brand-new deck installation.
Professional Window Replacement in Tucker
The Trusted Toolbox knows that in Tucker, the weather can change from moment to moment. Protect your home from the elements with windows that can withstand the weather. At the Trusted Toolbox, our team of professionals knows that investing in new features for your home can be daunting, but we're here to guide you through the process with friendly, straightforward customer service. We proudly service the Atlanta metro area, focusing on homeowners in Tucker. We pride ourselves on providing Tucker's homeowners with excellent workmanship while being dependable, fast, and efficient.
Exceptional replacement windows can renew the look and feel of your home, and Tucker homeowners should consider them a smart investment in the value of their home. After you have chosen the perfect new windows for your home, our window installers will get to work on setting them up. We will carefully remove the existing windows and haul them away. The Trusted Toolbox provides window replacement and repair to solve all home window-related problems for homeowners in Norcross and surrounding areas North of Atlanta. If the time has come for window repair or replacement in your home, let our handyman services help you with this project. We want to save you money and time by offering our fastest installation and repair services in the industry.
Contact Us to Hire a Handyman in Tucker
Our handyman professionals are here to help whenever your home is having problems. If you are searching for a local handyman expert, look no further. The Trusted Toolbox offers expert handyman services, remodeling, and repair services to homeowners in Atlanta, Marietta, Athens, and surrounding areas. No job is too big or small. Contact our experts at The Trusted Toolbox today by filling out our online contact form or calling us at 770-623-3097.